The hospitality industry has named Walking on Sunshine by Katrina and The Waves as its favourite feel-good song.
The news comes from the findings of a UK-wide survey from Walk for Wellbeing, a nationwide movement to help promote health and wellbeing within the hospitality industry.
The 1985 hit from the British rock band narrowly won the popular vote, only just beating out Happy by Pharrell Williams and Don't Stop Me Now by Queen.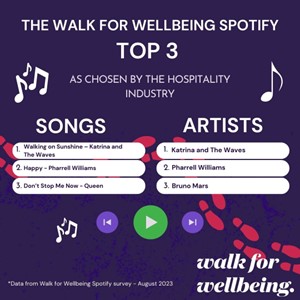 All of the submitted songs are now available to listen to on Spotify as part of the official Walk for Wellbeing Spotify playlist. The playlist will also be available for walkers to listen to during the day of the hosted walk, which takes place Sunday 8 October in five different locations across the country, including London, Birmingham, Manchester, Glasgow and Bath/Bristol.
Those who can't make that date can 'Walk It Your Way' at a location of their choice any time between Saturday 30 September and Sunday 15 October, encompassing World Mental Health Day on Tuesday 10 October. Created with flexibility in mind, these challenges allow participants to spend quality time on a long or short walk of their choosing with family, friends, colleagues and pets whilst helping raise awareness and critical funds for Hospitality Action.
Speaking on the survey results, Craig Prentice, founder of Walk for Wellbeing and UK hospitality talent partner, mum, said:
"Walk for Wellbeing is all about bringing people together and what better way to bring people together than through music?
"We hope our Spotify playlist will provide some musical motivation for walkers as they train and to enjoy on the walks themselves.
"Registration is open now and we'd urge everyone in the industry to sign up and help raise money for Hospitality Action so this vital charity can continue to provide invaluable help and support to those who most need it."
The money raised for Hospitality Action helps to fund counselling, grants for those in severe financial difficulties, mental health support, and various other means of support.
The Official Walk for Wellbeing playlist is available to listen to from today.
For more information about Walk for Wellbeing and to sign up for a hosted walk near you or a 'Walk it Your Way' walk, please visit walkforwellbeing.org