Whether it's a creamy Pina Colada, a classic Old Fashioned or a fruity experience in the form of a Sex on the Beach, it's no surprise that the UK is a big fan when it comes to cocktails.
How much of a fan you ask? Well, over 10.3 million Brits are responsible for sipping on over £600 million worth of cocktails, according to data from the CGA Mixed Drinks report. What's more, the level of consumers that typically drink cocktails in the on-trade, that is enjoy cocktails at a premise such as a bar, restaurant, hotel or nightclub, increased by 11% in 2022 compared to 2021.
Naturally, this is great news for those working in the hospitality industry, but what can you do to ensure your cocktail offering leaves your customers happy and wanting more? We've pulled together some of the key stats and insights to help you optimise your cocktail menu offering to help you do exactly that.
What cocktails should I be offering to my customers?
Part of the allure of cocktails is the variety of what can be delivered, although this can make it difficult for establishments to decide what to include on their cocktail menu.
Taking the average monthly search volume on Google as a starting point, we can work out what cocktails consumers are searching for the most. Based on our findings, Negroni comes out on top with a massive 90,500 searches a month, followed by Espresso Martini (74,000).  Common favourites; Pina Coladas, Pornstar Martinis and Mojitos were all tied for third place, with an average monthly search volume of 60,500.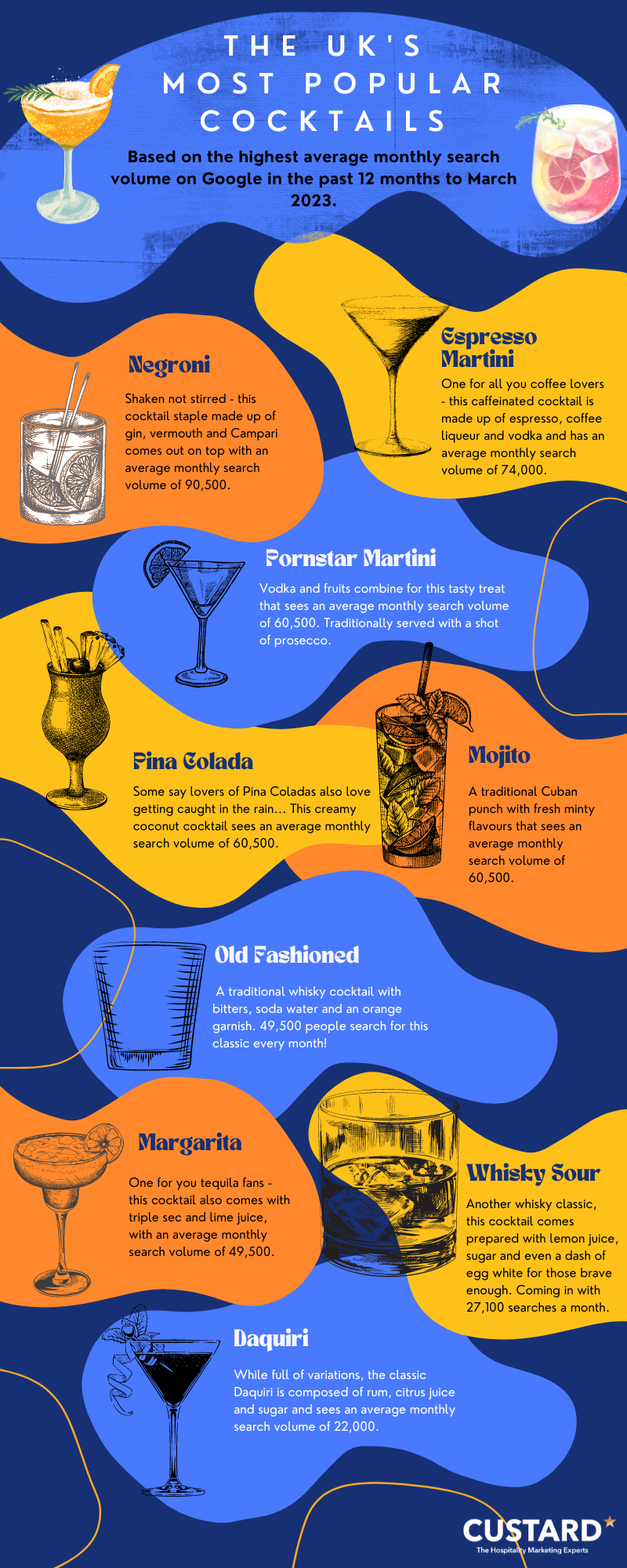 While a helpful starting point, it's also important to consider annual trends in the world of cocktails.
The below graph represents five of the top 10 cocktails search interest in the 12 months up to May 2023. Numbers represent search interest relative to the highest point on the chart for the given region and time. A value of 100 is the peak popularity for the term, while a value of 50 means that the term is half as popular.
The majority of the cocktails follow a similar pattern in terms of interest, with a spike in interest in December 2022 and January 2023(likely due to Christmas and New Year celebrations!) and a gradual increase again during the summer months.
With that said, we can see Negroni as a bit of an outlier, with its interest spiking in October and remaining high in comparison to the other cocktails until they all dip in popularity when February rolled around.


Does your location matter when it comes to choosing your cocktail menu? It appears there are, in fact, some variations in popularity across the UK. For example, we can see that in Wales, a Pina Colada is the most popular cocktail, while Northern Ireland consumers appear to prefer a Pornstar Martini.


Sober inclusivity
But hang on, what about people that don't even drink cocktails? Don't worry, we hear you, and all good hospitality businesses should be listening too.
That's because the number of people not only reducing their alcohol intake but opting for low or no-alcohol options instead is on the rise. 41% of UK adults have drunk low or no-alcohol drinks in the past 3 months, while 54% of adults who consumed them also agree that doing so makes them feel good.
Unfortunately, many hospitality businesses are still behind on the curve when it comes to offering non-alcoholic options, with the events industry in particular still "lagging behind", according to Narmeen Kamran, event director at Desert Island Events.
Speaking to Conference News on the topic, she explains how and why the events industry should be doing more when it comes to non-alcoholic choices for delegates:
"An easy way to look at this is as a dietary requirement. We cater for allergies, intolerances and dietary restrictions in terms of food, but why not drinks? Over the years, the choices for vegan and vegetarians have been just as exciting as the meat option most of the time. So why is sparkling water or orange juice considered a suitable alternative to alcohol?
"Organisers, venues and caterers, it's time to do better. Get creative with your non-alcoholic selection. Stop excluding and isolating an audience from your events because you haven't educated yourself and instead lead the change. We should be at the forefront of innovation."
Mocking up mocktails
When it comes to getting creative with non-alcoholic options, what better way to experiment than with non-alcoholic cocktails?
Mocktails provide the perfect opportunity for staff to flex their creative muscles while still creating something unique and exciting for guests. Take Royal Society of Chemistry at Burlington House for example, who played host to a challenge in April that saw journalists undertaking a cocktail and mocktail-making masterclass based on recipes from in-house caterers Houston and Hawkes, including Virgin Berry Mules and Spiced Zero Rum Sours.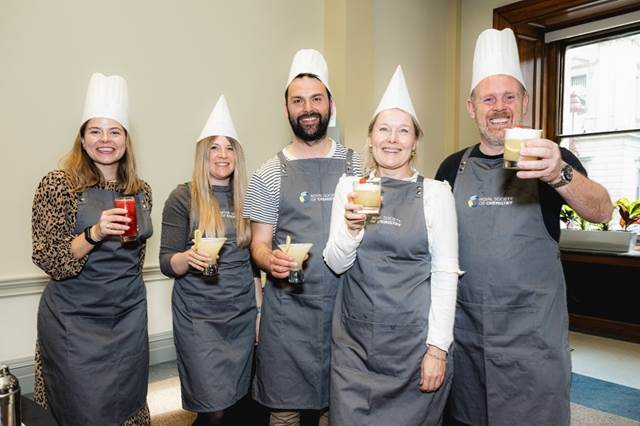 One of the great things about the hospitality industry is its ability to bring people together, and ensuring our drinks offerings help everyone to feel welcome and included can go a long way in achieving this. Whether it's what's behind the bar or what's on offer at your next event, keep this in mind as we raise a glass to our great industry.